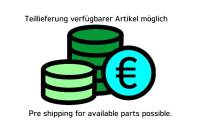 Bitte scrollen Sie, Versandkosten für Teilversand finden sie unten.



Beschreibung DE:
Möchten Sie lieferbare und vorbestellbare Artikeln zugleich bestellen, empfehlen wir die Lieferung zu teilen.
Wählen Sie dafür den Teilzahlungspreis entprechend Ihres Landes (Zone 1 bis 6) aus, um lieferbare Teile zu einem reduzierten Versandpreis in einer separaten zweiten Lieferung eher zu erhalten.
Description EN:
If you would like to order items that can be delivered and pre-ordered at the same time, we recommend splitting the delivery.
To do this, select the partial payment price that corresponds to your country (zone 1 to 6) in order to receive deliverable parts earlier at a reduced shipping price in a separate second delivery.
La description FR:
Si vous souhaitez commander des articles pouvant être livrés et pré-commandés en même temps, nous vous recommandons de fractionner la livraison.
Pour cela, sélectionnez le prix de paiement partiel correspondant à votre pays (zone 1 à 6) afin de recevoir des pièces pouvant être livrées à un tarif de port réduit dans une seconde livraison séparée plus tôt.
Descrizione IT:
Se desideri ordinare articoli che possono essere consegnati e preordinati allo stesso tempo, ti consigliamo di dividere la consegna.
Per fare ciò, seleziona il prezzo di pagamento parziale corrispondente al tuo paese (zona da 1 a 6) per ricevere parti che possono essere consegnate a un prezzo di spedizione ridotto in una seconda consegna separata prima.
Descripción ES:
Si desea hacer un pedido de artículos que se pueden entregar y pedir por adelantado al mismo tiempo, le recomendamos dividir la entrega.
Para ello, seleccione el precio de pago parcial correspondiente a su país (zona 1 a 6) para recibir las piezas que se pueden entregar a un precio de envío reducido en una segunda entrega separada antes.
Opis PL:
Jeśli chcesz zamówić produkty, które mogą być dostarczone i złożone w tym samym czasie, zalecamy rozdzielenie dostawy.
Aby to zrobić, wybierz częściową cenę płatności odpowiadającą Twojemu krajowi (strefa 1 do 6) w celu wcześniejszego otrzymania części, które można dostarczyć po obniżonej cenie wysyłki w oddzielnej drugiej dostawie.
Popis CZ:
Pokud byste chtěli objednat polo¸ky, které lze dodat a předobjednat současně, doporučujeme rozdělit dodávku.
Chcete -li to provést, vyberte dílčí cenu platby odpovídající va¨í zemi (zóna 1 a¸ 6), abyste mohli obdr¸et součásti, které lze dodat za sní¸enou cenu dopravy, v samostatné druhé dodávce dříve.
описание RU:
Если вы хотите заказать товары, которые могут быть доставлены и предварительно заказаны одновременно, мы рекомендуем разделить доставку.
Для этого выберите цену частичной оплаты, соответствующую вашей стране (зона с 1 по 6), чтобы получить детали, которые могут быть доставлены по сниженной цене доставки в отдельной второй доставке ранее.